Competitive and Development Programmes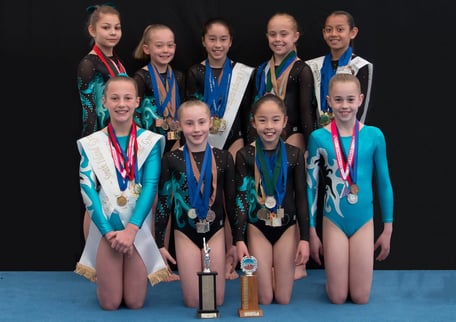 Competitive WAG (Women's Artistic Gymnastics)
Steps Programme
Pre Competitive
Step 1-10
Junior International
Senior International
Regional WAG (Women's Artistic Gymnastics)
Regional Competitive Programme
Iron
Bronze
Silver
Gold
Elite/Emerald
Age Group/ Ruby
Please register your expression of interest for a trial/assessment time via info@tewerogym.org.nz
INDIVIDUAL ASSESSMENTS ONGOING - Programme invitations are offered after trials and testing.
Women's Artistic Gymnastics - WAG
Vault During their 25m approach to the vault the gymnasts must develop the necessary power to complete all their aerial skills before landing. Upon take off from the springboard the gymnast explosively propels herself upwards, dynamically pushing off the vault to generate greater height and distance in the second phase of flight. This enables a higher level of acrobatic skill and extension to be performed prior to a stable landing.
Uneven Bars Swinging movements are predominant on this apparatus. The movements are continuous with movement in both directions, above and below the bars. Release and regrasp elements are essential for maximum scoring. A controlled and often spectacular dismount ends the routine.
Balance Beam This is a high risk apparatus. The gymnast performs on a 5m long and 10cm wide platform, performing acrobatic elements, leaps, jumps and turns in a spectacular series of combinations that demonstrate elegance, flexibility, balance and self control. The routine builds up to a dismount high point, often preceded by a dramatic acrobatic tumbling combination.
Floor The floor exercise is choreographed to music, which enhances the performance in artistry and grace alternating between powerful acrobatic tumbling series of forward and backward elements and dance elements. The whole floor area should be used with the exercise varied in mood, tempo and direction. Individuality, originality, mastery and artistry of presentation are key ingredients for a high score.