Recreational Classes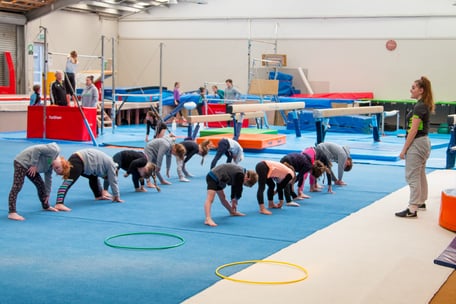 Ages 5-10 years $180.00 per term
Current classes (1 hour)
Monday 3:30 - 4:30 pm
Monday 4:30 - 5:30pm
Wednesday (5-7 yrs) 3:30 - 4:30 pm
Thursday 4.00 - 5.00pm
Friday 3:30 - 4:30 pm
Saturday 10:30 - 11:30 am
Ages 7-10 years $255.00 per term
Current classes (1.5 hours)
Wednesday (7-10 yrs) 4:30 - 6:00 pm
Thursday (Invitation only) 4:30 - 6:00 pm
Our Recreation gymnastics classes are aimed for girls and boys aged 5 years and upwards. It is a programme where children can learn lifelong fundamental skills whilst having fun. Under the guidance of qualified coaches, they will develop skills and confidence through gymnastics apparatus' (Beam, Bar, Floor, Vault.)

PLEASE NOTE when registering, a child can either be enrolled in a class or placed on a wait list if the class is full:
enrolment in a class: a child is confirmed in a class after an invoice has been received via email and paid. The invoice will be sent automatically upon completing the registration process. Class placement is not confirmed until paid.
placed on a waitlist: if an invoice is not received the child IS NOT enrolled. When on the waitlist an orange "wait list" button is highlighted next to the class in the child's registration details. A child is moved from the waitlist when a place becomes available and an invoice will be emailed. This confirms the child is enrolled in the class starting immediately pending payment
I have enrolled - what else do I need to know:
Children can wear either bike pants or leggings or shorts with a fitted T-shirt or leotard. Please ensure the clothing is reasonably tight fitting and not baggy
For safety reasons clothing should not have buttons, buckles or zippers as these can catch on the equipment.
For safety reasons all long hair must be tied in a plait.
Shoes are not allowed on the gym floor and children wear socks or bare feet.
When the children arrive they can leave their shoes, bag, etc in gymnast area.
A Coach will come up to waiting area to call the class - you should wait in the viewing area when you arrive
If you are late please ask your child to join their group or a staff member can take them into the main gym area.
Parents are requested not to come onto the floor at any time. The waiting area is available for viewing the class your child is enrolled in.
***** Please note Te Wero Gymnastics reserves the right to cancel any class that does not have a sufficient number of registrations. Parents will be notified and be offered a different class option should this occur.