Our Vision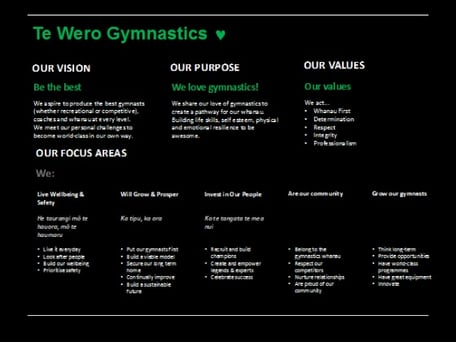 We are a new gymnastics club based within the Eastern Suburbs of Christchurch. We are focused on individual development, fitness, and well-being, providing the combination of 'challenge' and 'fun' within an individual or group setting.
We pride ourselves on catering to the community - providing classes for Preschool-aged children, Primary and High Schools; Recreational Classes for 5-13 year old children, Xtreme Teen Classes 14+ years, Adults 16+ age group, Senior Adults aged 55+, Pre-Natal Classes for Mums and Dads-to-be, Physically/Mentally Disadvantaged, Community Sports Teams, and Non-Profit Organisations.
All of our classes and sessions are designed and implemented by Olympic Gymnastics Coach - Jozsef Ferencz, in which his own vision and passion teaches gymnastics to improve physical fitness and mobility, overall emotional and mental well-being - self-esteem; confidence, overcoming fears, and essential life-skill such as focus, perseverance, self-management, leadership, self-responsibility, and teamwork. All programmes incorporating 'challenge' and 'fun' to achieve remarkable life-long results.
Extending beyond our community-based programmes, we also provide high quality optimal performance programmes for gymnasts, athletes, parents, teachers and coaches.
Our performance and competitive gymnastics programmes are designed to focus on refining basic skills to an advanced level. We strongly promote and encourage a culture of collaboration, teamwork, dedication and excellence. As a result, the level of skills increase in complexity and difficulty, optimizing a gymnasts potential and providing a pathway to reach a National and International high standard performance.

Te Wero is an affiliated club with GymsportsNZ, the governing body for Gymnastics in New Zealand, aligning with and supporting the development pathway of athletes within High Performance Sport New Zealand and GymSports NZ.

Te Wero welcomes any gymnast and/or coach the access to our performance and competitive programme from any Club or Organisation in New Zealand, while allowing those gymnasts/coaches to remain members of and compete for their home clubs.

We envision providing opportunities for non-competitive young people to experience the sport of gymnastics through our Te Wero Community Initiative Scholarship Programme, and talented young gymnasts/athletes who may not be able to access high-level coaching, an opportunity to develop within our Te Wero Gymnast/Athlete Scholarship Programme.

Our goal is to provide a high quality performance gymnastics club in the South Island and New Zealand, yet encouraging a strong foundation through collaboration - serving our Community with 'challenge' and 'fun' gymnastics sessions for people of all ages, abilities, and levels of fitness.