Preschool Classes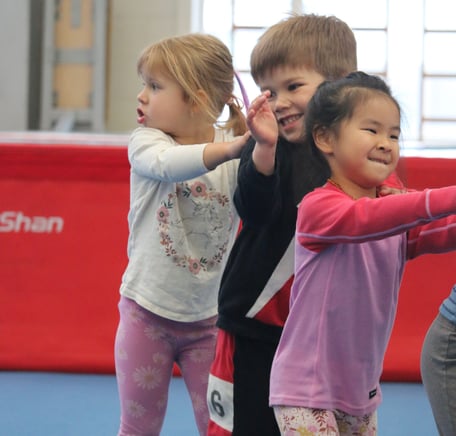 Structured Preschool Sessions - Coach Led
Age 18 months - 4 years old
Parents must stay with their child at all times during a pre-school session.
$130.00 per term
Monday 10:30 - 11:15 am
Tuesday 9:30 - 10:15 am
Thursday 9:30 - 10.15 am
Friday 11:00 - 11:45 am
Saturday 8:30 - 9:15 am
Saturday 9:30 - 10:15 am
Structured Unparented Preschool Sessions - Coach Led
Age 4 only
Parents are not to be on the floor with child during session
$150.00 per term
Saturdays 9:30 - 10:30 am
COACH LED PARENTED CLASSES - Structured Programme
Why Te Wero Gymnastics?
As you probably already know, pre-school gymnastics with Te Wero is something pretty special, mainly because our coach, Kyleab Ellis, is incredibly passionate about helping young children be curious, playful and embrace a sense of adventure.
Plus, he's a bit of a big kid himself! As a former member of the New Zealand men's gymnastics team and an experienced preschool coach, he knows a thing or two about the fun of movement but also understands the importance of safety.
Why gymnastics?
It's a whole lot of fun!
We nurture interactive play and social well-being
We build self-esteem through challenge and achievement
We help children understand that failures are learning opportunities
We develop playful pre-schoolers so they're ready for life's adventures.
What happens in a Te Wero pre-school session?
Well, in case you've forgotten, it's a little early to learn how to execute a triple jump…but we know children in our sessions love to slide, balance, jump, land, crawl, hang, swing and experiment at their own, individual pace.
The sessions are either one hour or 45 minutes long and are structured around warm-up and stretching, three 10-minute circuits incorporating beam, floor and bar, a portion of free time, and then a warm-down.
Time to bond with your little one
Kyleab works with 8-10 children in any one session (with a minimum of 5 children). If your child is under four years old, we ask that you stay with them during classes to ensure they experience the most fun as safely as possible. If your child is over four years old you can choose a class where you sit back and watch, or one where you can join your pre-schooler.
***** Please note Te Wero Gymnastics reserves the right to cancel any class that does not have a sufficient number of registrations. Parents will be notified and be offered a different class option should this occur.
PLEASE NOTE when registering, a child can either be enrolled in a class or placed on a wait list if the class is full:
enrolment in a class: a child is confirmed in a class after an invoice has been received via email and paid. The invoice is sent automatically upon completing the registration process. Class placement is not confirmed until paid.
placed on a waitlist: if an invoice is not received the child IS NOT enrolled. When on the waitlist an orange "waitlist" button is highlighted next to the class in the child's registration details. A child is moved from the waitlist when a place becomes available and an invoice will be emailed. This confirms the child is enrolled in the class starting immediately pending payment
I have enrolled - what else do I need to know:
Children can wear either bike pants or leggings or shorts with a fitted T-shirt or leotard. Please ensure the clothing is reasonably tight fitting and not baggy
For safety reasons clothing should not have buttons, buckles or zippers as these can catch on the equipment.
For safety reasons all long hair must be tied in a plait.
Shoes are not allowed on the gym floor and children wear socks or bare feet.
When the children arrive they can leave their shoes, bag, etc in gymnast area.
A coach will come up to the waiting area to call the class - you should wait in the viewing area when you arrive.
If you are late please ask your child to join their group or a staff member can take them into the main gym area.
(Unparented 4 years class only) Parents are requested not to come onto the floor at any time. The waiting area is available for viewing the class your child is enrolled in.